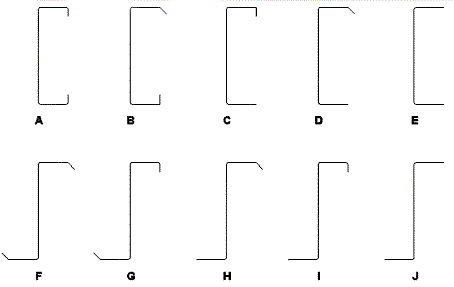 Seagrave roll forms a wide range of cee and zee sections for use in light framing applications or to replace hot rolled sections. Sizes range from 4 1/2 to 16 inches wide with leg lengths from 2 to 3 1/2 inches with an infinite choice of sizes in between and in gauge that range from 16 gauge to 3/16 inches thick.
Roll forming is done on a Metform roll former that is unique in Canada. Instead of the normal 4 to 5 hour changeover required by traditional roll forming equipment, Seagrave can change from cees to zees or various widths or leg lengths in 5 to 10 minutes. Therefore it is possible to make small runs of a few hundred feet without expensive setup times.
A wide range of inline hole patterns allow the creation of a section to your specifications, cut to your required length with holes and no waste.
Material Designations
Any material, including hot rolled, P&O, galvanized, pre-painted steel or aluminum, with a yield of 30,000 to 70,000 PSI can be used, but the most typical is hot rolled steel with a 50-55 yield. Special material are subject to availability.
Painting
An optional coat of light grey hybrid powder paint (epoxy/polyester) can be applied with an inline powder paint system. Maximum length of part is 42 feet when powder paint is used. Other types of powders and colours are available and may be subject to minimum order sizes.